Cedar Products - Cedar Lumber, Siding, Fence Panels, Roofing, Sheds, Playhouses, and Dog Houses
Our cedar products are of high quality. Cedar is an amazing building tool with many advantages. Cedar trees originate from the Pacific Northwest in North America. The presence of fungus, microorganisms, and destructive insects along with damp weather conditions in its original habitat has made the cedar tree develop self-protective qualities over time. These self-protective qualities ensure the cedar tree is able to withstand tough weather conditions and repel destructive insects. Surrey Cedar Ltd has taken advantage of the numerous qualities of cedar trees to re-manufacture top-quality cedar products in Western Canada. We offer our customers the best value at the best price. Our product range includes:
Cedar Lumber
At Surrey Cedar Ltd, we have a wide range of Western Red Cedar lumber and cedar siding for different forms of outdoor projects. Along with its alluring scent and resistance against cracking and warping, our cedar lumber products create a comfy atmosphere when they are used for home improvement projects. They can be used for outdoor projects such as roofing, siding, and fencing work. Our cedar products are durable and robust. 
FIND OUT MORE
Cedar Fence Panels
Try our premium cedar fence panels – crafted to stand the test of time. Our reputation for uncompromising quality is unmistakable. Our desire is to provide high-end cedar panels and custom cedar fence panels to our customers. Fence panels from Surrey Cedar make beautiful cedar fences. They provide a way to secure your property, increase its value and give you privacy. Our cedar fence panels are very aesthetically pleasing. All panels from us are manufactured from 100% Western Red Cedar. Work with us and let us add exceptional worth to your home investment.
FIND OUT MORE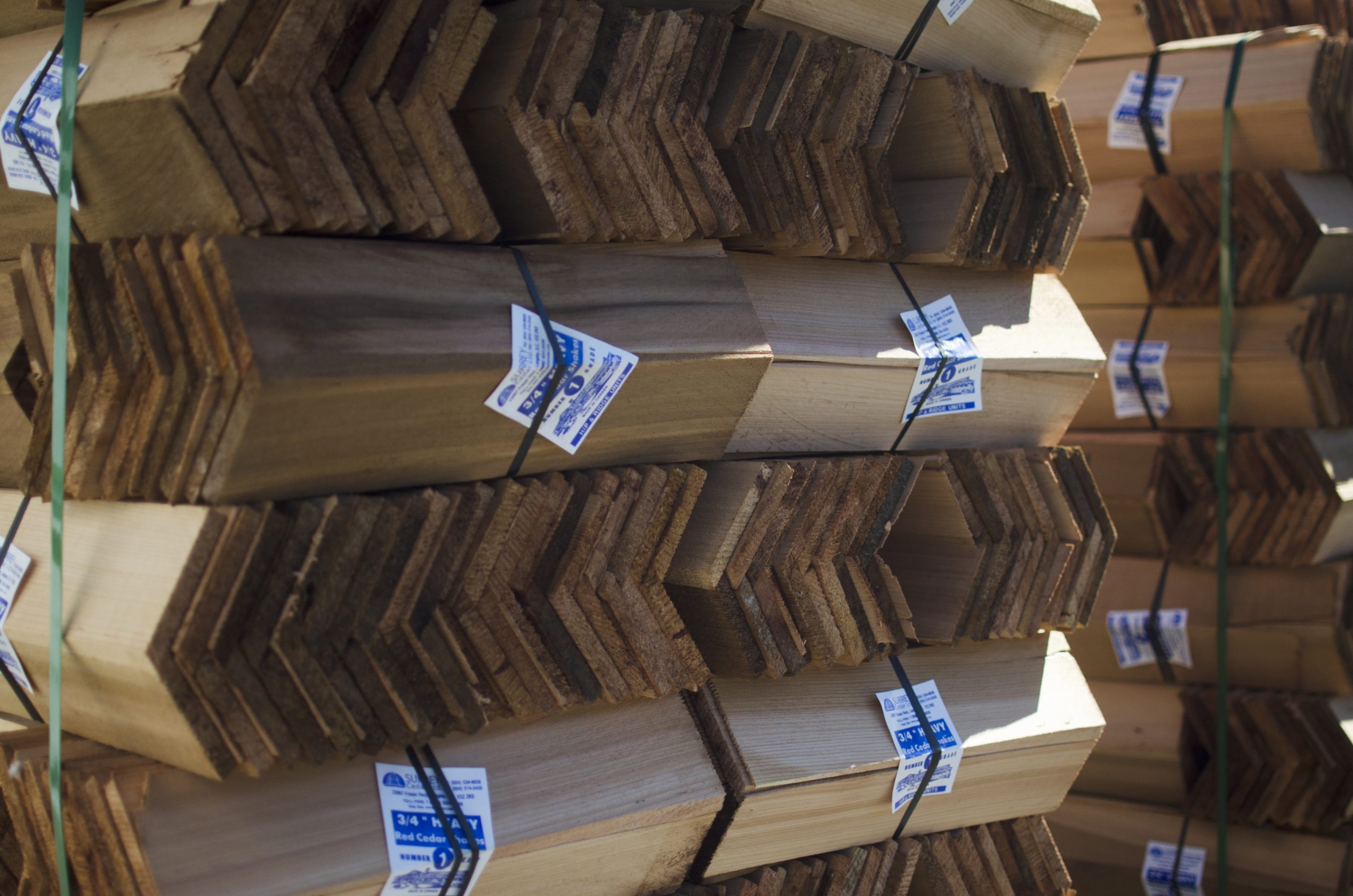 Cedar Roofing - Hip & Ridge Caps, Shakes & Shingles
The roof of a home is the first line of defence against weather elements. It is a crucial part of a residential structure. Since it is always exposed to different weather conditions, it could become vulnerable to wear and tear over time. Cedar roofing is a popular choice, not only because of its long-lasting protection; it adds a distinct touch and timeless beauty to your home. At Surrey Cedar Ltd, all of our Western Cedar roofing products are reputed for having the best quality in the roofing industry. These products include hip and ridge caps, red cedar shingles, hand split and re-sawn shakes and taper sawed cedar shakes.
FIND OUT MORE
Cedar Sheds & Shed Kits, Kids Playhouses & Dog Houses
Do you need an outdoor room for storage of garden equipment, tools, garden furniture, or bikes? Cedar sheds are an ideal choice as they can withstand tough environmental conditions and they do not dent over time – all they do is age gracefully. At Surrey Cedar Ltd, our cedar shed products include precut shed kits and prefabricated sheds. We can also customize the shed products to meet your specific needs. Our installers can add things such as a flower box, a window, double doors, and include any specifics you may require.
FIND OUT MORE
Contact Us For More Info About Our Cedar Products
Are you in need of top-quality cedar products for your fencing, roofing, furniture, or sheds? Feel free to contact Surrey Cedar for more information about our cedar products. We are also happy to help answer any questions that you may have about us or if you need an estimate for your project. We can be reached through email or you can fill out our contact form. You can also give us a call at 1-888-534-9936. If you are nearby you can also visit our office and see us in person.