---
Cedar Siding Supplier – Shingles, Shakes, Roofing and Lumber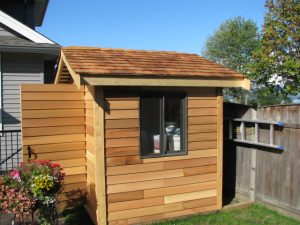 We're a cedar siding supplier in Canada, offering shingles, siding, roofing, outdoor structures, closets and wholesale cedar lumber. For residential applications like a house, western red cedar lumber is a top choice. It is very versatile and can be used for a large variety of building projects. Finding the right company for your project is important.
When picking a cedar siding supplier, you will want to go with an experienced distributor. At Surrey Cedar, when you buy from us you buy direct. Our quality is high and our prices are competitive. Cedar can be expensive, but going through us is affordable. Your house can look amazing and it doesn't need to cost a lot. Our qualified professionals are here to help you every step of the way. Let's take a look at some reasons why you may want to get new shingles and siding.
Why New Shingles and Siding May Be needed on a House
New house shingles and siding may be needed for a repair or a fresh roof installation. Western red cedar is fortunately very long-lived, but after 30-40 years of natural weathering, it may require replacing particularly in terms of cedar shakes and shingles. This is true of any building material, natural or composite, and is just a function of time.
When it comes to replacing red cedar siding there are a number of popular options that a cedar siding supplier can provide. Vertical cedar siding adds an interesting architectural look to a house has a throwback feel. Bevel cedar siding, also commonly known as clapboard, has a charming timeless look. Bevel cedar siding prices and prefinished wood siding prices can be steep. Going through Surrey Cedar will save you money though. Cedar channel siding takes its cue from a rustic tradition and is a great way to highlight the colour and texture of red western cedar. And lastly, houses with cedar shake siding are always in demand due to the beauty of the pattern.
Why Choose Surrey Cedar as a Cedar Supplier for Your Roofing
Why choose Surrey Cedar as your cedar siding supplier? We offer the best cedar roofing and siding prices in BC, our lumber is high quality, we have a large variety of products and our installation crew is fast and professional. We offer only the highest quality materials and sell cedar siding across Canada and around the world. Our combination of low prices and top quality means that the customer always comes out ahead as Surrey Cedar. For over 40 years, our family run business has been the cedar siding supplier and cedar shake supplier for thousands of satisfied customers.
Cedar Siding Supplier – Contact Us for More Info and How to Order
There are many benefits to getting siding, roofing, and shingle supplies from a Cedar Siding Supplier. At Surrey Cedar, we know that your time and money is important which is why we offer excellent customer service and expert advice. If you would like to place an order for cedar lumber or any of our cedar products, please contact us or request a free estimate. If you have any immediate questions please call us at 1-888-534-9936 or send us an email.