---
Cedar Shakes vs Asphalt Shingles – Why Choose Cedar Shakes over Asphalt Shingles?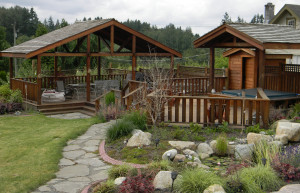 Cedar shakes vs asphalt shingles – Many people ask, "Why choose cedar shakes over asphalt shingles? "What is the benefit of wood shake vs. asphalt shingles?" They are valid questions and there are a number of factors that go into deciding which is right for you and your home. Let's take a look at what the benefits of cedar shakes are over asphalt shingles.
Why Choose Cedar Shakes over Asphalt Shingles – Beautiful Appearance
One of the great advantages of choosing red cedar roofing shingles and shakes over asphalt shingles is that they simply look much better. It is hard to think of a roof as aesthetically pleasing as a cedar shake roof. Red cedar shake roofing shingles or shakes have an elegant, earthy, and wooden appearance that instantly makes any house more attractive. The natural grain and colouring of cedar add warmth and character to any home. Here are all of our roofing products:
Hip and ridge caps

Red cedar shingles
Hand split & resawn shakes
Taper saw cedar shakes
Asphalt shingles, on the other hand, look very much like what they are made of. A combination of composites including pebbles and tar. Asphalt roof shingles are much more of a functional roofing option. In recent years, asphalt shingle companies have produced a more varied assortment of shingles. There are many ways of cutting asphalt shingles that produce different shapes and layered looks. In terms of colours and patterns, they have essentially remained unchanged for years. Although there are some real positives when it comes to artificial shingles, they just can't match the appearance and beauty of cedar shakes.
Cedar vs Asphalt – Which Lasts Longer?
When discussing the benefits of cedar shakes vs. asphalt shingles, one key consideration is how long do they each last. Obviously, homeowners want to use a product that is long lasting and thus cost efficient. A common belief about cedar shakes / wood shakes vs asphalt shingles is that the life of a cedar shake is shorter. But is this really true?
The answer is "no" given the number of upgrades down to cedar shakes over the years that improved their longevity. With new antifungal and waterproofing coating being added to red cedarwood shakes and shingles, the lifespan of both has increased substantially until they are essentially on par with composite asphalt shingles. (There are also many benefits of cedar which make it desirable for roofing and other applications).
You can now expect between 25-40 years with cedar shake roofing which is on par with composite shingles. In fact, if you live in a windy area then you may experience a much shorter artificial shingle lifespan. If asphalt shingles had a serious flaw it would be wind as they can be uprooted and ripped off easily in a windstorm. That is not the case with cedar shakes which are very wind resistant. As far as having a metal roof over shingles, metal is durable – and expensive. Another thing to take into consideration is that metal roofing also doesn't have the health and aesthetic appeal of cedar.
Cedar Shakes, Shingles in Other Building Materials – Price and Home Resale Value
The choice between cedar shakes and asphalt shingles becomes much clearer when looking at what each can add to the bottom line value of your house. Although asphalt shingles may initially cost less to install, cedar shakes do much more for a property's resale value. Not only does it look more attractive to prospective buyers, but it also adds value in the fact that cedar shingles are an excellent insulator and will save owners money on their heating bills. Cedar shakes make good financial sense in the long run.
Best Cedar Shakes for Sale – Cedar Shakes vs Asphalt Shingles, Surrey Cedar Has You Covered for Cedar
If you are looking for cedar shakes for sale, you can count on Surrey cedar. When you buy through us, you buy direct. This means that you will get the biggest cost savings possible. As a 40+ year family owned business, we are proud to offer the highest quality western red cedar products at the most competitive prices. Along with our competitive prices, we also have a skilled in house installation team. We are also supported by experienced contractors that are ready to help you with your project. If you prefer to handle installation on your own, we can sell you pre-cut wood for whatever your project entails. If you have a custom order please let us know and we will do our best to accommodate you.
We hope that you can now determine the clear winner between cedar shakes vs asphalt shingles. It's cedar, and not just because that is our business. There are so many benefits that cedar offers in comparison to other roofing materials. View our cedar lumber or our cedar products and contact us to place an order. You can also request a free estimate on any order or call us to get started today at 1-888-534-9936!