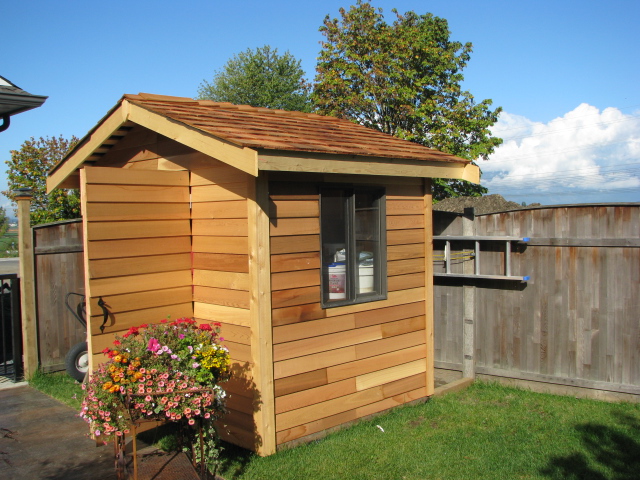 ---
Benefits of Cedar Wood Shake, Siding, Shingles, and Panels
There are many benefits of cedar wood shake, siding, shingles and panels. Some benefits include that cedar is cost effective, durable, beautiful, sustainable and environmentally friendly. Red cedar resists rotting naturally. Cedar is very customizable. The most popular customizations are staining, varnishing, carving or wood burning.
What Applications Can You Use with Cedar Wood Shake and Shingles?
Cedar roofing, cladding, garage doors, cedar sheds.
Using cedar shakes and shingles for roofing and finishing will create a stunning appearance and stand the test of time. Shakes and shingles can be used on a building exterior in a cladding application or as a finishing for garage doors. You can also build many structures from cedar. Let's see how else cedar can be used.
Let Us Inspire You – Applications for Cedar Siding and Panels
Cedar fencing, decks, docks, benches, plant boxes, walls.
Cedar wood is a durable and strong building material. Applications like cedar siding and cedar panels are a great alternative to traditional building materials. No matter how you use cedar siding or cedar fence panels, it can capture any style you are trying to showcase. Cedar as a finishing product can have:
Rustic edges for an artistic flare
Arranged in different eye catching patterns
Laid horizontally with clean edges for a traditional look
Contact Us for More Info About Cedar Wood Shake, Siding, Shingles and Panels
There are many benefits to cedar wood shake, siding, shingles and panels. If you would like to place an order for cedar lumber or any of our cedar products, please contact us or request a free estimate. Cedar is affordable in comparison to prices of other building materials. We are a trusted Canadian red cedar supplier. If you have any immediate questions please call us at 1-888-534-9936 or send us an email.